Visitors Outside the U.S.
We recommend you obtain travel insurance with U.S. coverage. Emergency medical treatment is not free, unlike the NHS in the UK. Check with your agent/broker; most insurance companies offer short term or annual travel policies covering the U.S.
Travel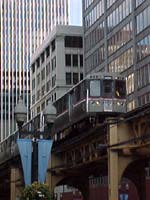 Getting to, from and around Chicago is very easy. The reception site is located "downtown," in the city center, and the church is located southwest of downtown, about ten minutes away by car.
Public transportation
is convenient and inexpensive and cabs are plentiful.
Cab fare from O'Hare Airport to downtown is approximately $35. Shared cab rides are available for $10/person - recommended only for single travelers or those that can't fit into a cab with the rest of their group. Public rail service (the CTA Train) is $1.75 per person.
Accommodation
We recommend you stay near the
reception site
. There are plenty of hotels to choose from, many in walking distance. The bridal party is staying at the
House of Blues Hotel
. If you need to book a room, contact us and we can offer recommendations and/or try to arrange a discounted group rate at the House of Blues Hotel. For a list of the closest hotels,
click here